March 26, 2023
What is urticaria?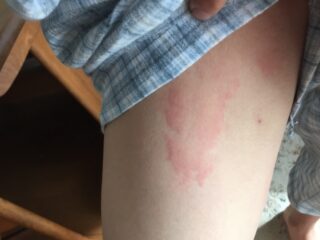 Urticaria is a temporary reddening, edema and swelling of the skin, often accompanied by itching.
There are various types of urticaria, some of which are caused by some kind of stimulus (stimulus-induced urticaria), while others occur for no apparent reason (spontaneous urticaria). In some cases, there is only one trigger, but in others, urticaria may be caused by a combination of factors, such as physical condition or infection.
Chronic Urticaria
In chronic urticaria, skin symptoms develop suddenly and disappear repeatedly. Chronic urticaria is often accompanied by intense itching, and many people scratch the affected area. The scratched area may become red and swollen, resulting in welts. In prolonged cases, the rash may persist for more than 6 weeks and recur repeatedly. Chronic urticaria can be divided into allergic and non-allergic forms, but it is difficult to determine the cause just by looking at the symptoms. It is mainly caused by the release of substances such as histamine in the body and is treated symptomatically with a combination of oral antiallergic medications and topical anti-itch medications. When urticaria develops, it is recommended to cool the affected area at home with coolants to reduce itching and redness. Rest and avoid hot baths and strenuous exercise.
Causes of Urticaria
The most common type of urticaria that triggers a visit to the hospital is spontaneous urticaria, which is urticaria without a definite cause.
Oftentimes the hives subside withing a few minutes to a few hours of onset, but may persist for a few days. Acute urticaria subsides within 6 weeks; chronic urticaria persists beyond that time and may last from several months to several years or more.
In children, urticaria is often triggered by a cold, but it resolves once the cold is gone. Infection, food, and stress are all said to be associated with the aggravation of urticaria, but in all cases it is difficult to pinpoint a definite cause.
In contrast to spontaneous urticaria, there is another type with a known trigger, called stimulus-induced urticaria.
Many people are familiar with urticaria as a symptom of food allergy. When there is a clear direct stimulus to the body, such as food, drugs, perspiration, or exercise, it is called a direct trigger.
On the other hand, when the body is tired or stressed, or when there is an underlying disease or infection such as collagen disease or serum sickness, the condition that predisposes a person to urticaria is called a background factor.
Symptoms may be caused by food or drug alleries or food-dependent, exercise-induced anaphylaxis, in which anaphylaxis is triggered by exercising after eating certain foods like shrimp or wheat. They may also be caused by other direct triggers that add to the background of allergic symptoms.
Diagnosis and Treatment of Urticaria
Tests are performed to diagnose the type of urticara present.
The type of urticaria can usually be diagnosed by the type of skin rash and the timing of the onset of the rash.
Because of that, we first obtain the patient's medical history before we then perform the appropriate tests.
Blood samples may be taken to check IgE levels against allergic triggers. Skin tests may also be performed. There are so many tests for allergies, but regardless, we will consider what tests will lead to treatment and select the necessary tests for it.
Most of the patients who come to our clinic have spontaneous urticara with no identifiable cause. The most common causes of urticaria are food and drugs. We avoid these causes and monitor the partients.
On the other hand, the majority of patients with urticaria with an undetermined cause are treated and prevented by taking anti-allergic drugs. If the effect is poor, double doses of antiallergic drugs or a combination of two drugs may be used. If this is still not sufficient, an H2 antagonist (e.g., Gaster) or an antileukotriene (e.g., Kipres) may be added.
As symptoms improve, the dosage is reduced by gradually increasing the intervals between oral medications, with the ultimate goal of eliminating symptoms without the need for oral medications.
» Click here for more information regarding antiallergic drugs.
Treatment of urticaria is often a lengthy process, and symptoms are monitored with regular medical interviews. Since urticaria usually disappears within 24 hours, it is easier to make a definite diagnosis if you take pictures of your symptoms with a smart phone or other device and show them to us at the time of consultation.
Treatment with Biologics (Xolair)
The treatment Xolair is for patients with urticaria of unknown cause who have not had adequeate response to other existing treatments.
Xolair suppresses the production of histamine and allergic symptoms by suppressing IgE, the cause of chronic urticaria.
Xolair treatment is available at a cost of approximately 90,000 yen per month (covered by insurance at 10-30% copay) for patients over 12 years of age, who have had inadequate responses to previous treatments, and for whom the cause of their urticaria is unknown.
» Click here for more information on Xolair.
Prevention and precautions for urticaria
Allergy treatment involves identifying and avoiding direct triggers of allergic reactions. It is also important to keep in mind the possibility of life-threatening conditions such as anaphylactic shock and choking due to airway edema.
In cases like chronic urticaria, where the direct trigger is unknown, the first step would be to prevent the onset of symptoms by taking anti-allergic medications.
With cases where the direct trigger is unknown, the primary goal is to be able to live a symptom-free life through treatments such as oral medication. Furthermore, the final goal is to achieve a symptom-free state without any treatment.
Unprovoked urticaria is rarely life-threatening, but it can be exacerbated by fatigue, stress, infection, and other factors and significantly reduce the quality of life.
Although urticaria may disappear relatively quickly, the ultimate goal may be to suppress symptoms while taking anti-allergic medications.