March 26, 2023
What is Epiduo Gel?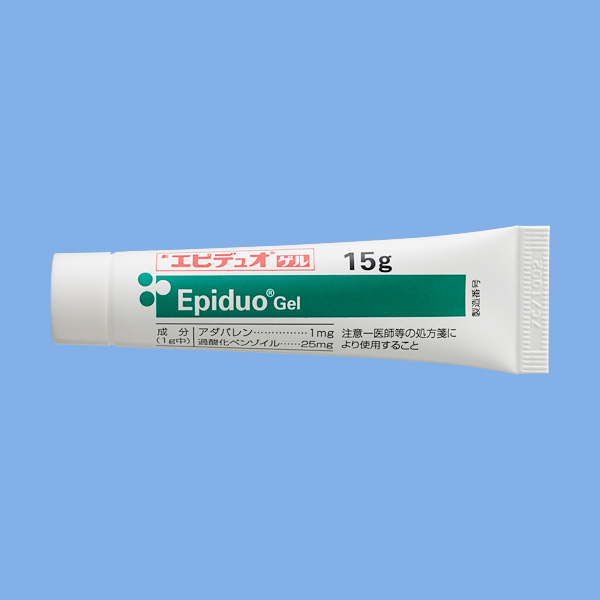 Epiduo Gel is a medication that contains two ingredients: Bepio Gel (BPO) and Differin (adapalene).
Bepio sterilizes acne-causing bacteria such as acne bacterium through its bacteria-killing action, and improves pores through its peeling action (removal of dead skin cells on the skin surface).
Differin improves clogged pores by regulating skin keratinization (the process by which cells that create the skin's surface are born and become keratinized).
Overseas clinical trials have confirmed that Epiduo Gel is more effective than BPO and adapalene as single agents. It is the most effective drug among insurance treatments in Japan.
The name Epiduo derived from the "epi" in epidermin (skin), and the "duo" originated from dual active intredients and dueal mode of action.
Patients Eligible to Use Epiduo Gel
Epiduo Gel can be useful for patients suffering from acne. It is also of use to patients who have had inadequate responses with other drugs.
How to use Epiduo Gel
Apply once a day to the affected area after washing the face. Avoid the eyes, lips, mucous membranes, and wounds. Apply gently without rubbing. Wash hands after application.
Side Effects of Epiduo Gel
While Epiduo Gel is expected to be effective, the incidence of side effects is also high. At the beginning of use, patients may experience symptoms of irritation such as redness, burning, peeling, and dryness. In most cases, the frequency of irritation will gradually decrease, but in rare cases, a rash (contact dermatitis) may occur. If severe redness, itching, or swelling occurs, stop using Epiduo Gel immediately and consult a doctor.
Precautions for use
– Epiduo Gel should not be used if you are pregnant or may become pregnant
– It is not recommended to use Epiduo Gel during lactation. However, if it must be used, please do not breastfeed
– Avoid contact with hair and eyebrows when using Epiduo Gel, because of its depigmenting effect. For the same reason, it is also recommended that you choose white clothing, bedding, and towels that may come in come in contact with the medication
– Avoid sunburn when using Epiduo Gel, as it may cause irritation
– Store Epiduo Gel at room temperature (1-30℃).
Copayment and Drug Price
The Epiduo Gel is 2,071.5 yen per 15g bottle.
The drug fee is 621.45 yen for a patient with 30% copay.
(This is the calculation of just the drug fee.)