March 26, 2023
What is acne?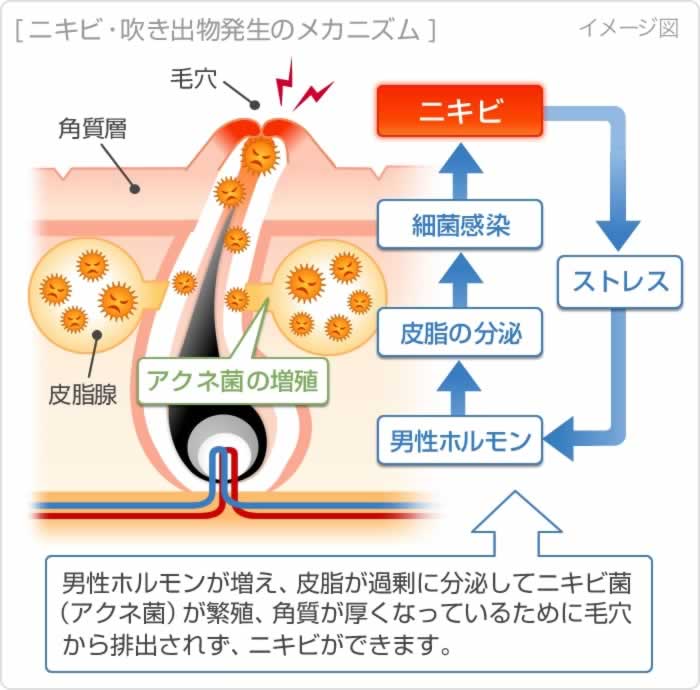 Acne is a condition in which pores on the face and other parts of the body become clogged due to excessive sebum secretion. This causes inflammation due to the multiplication of acne bacteria inside. Using the sebum that accumulates in the pores as a source of nutrients, the bacteria that cause acne multiply and the symptoms worsen.
It is most often seen from childhood to adolescence, but in some cases, it worsens in adulthood. In such cases, a number of factors including hormonal imbalance, lack of sleep, ultraviolet rays, stress, and changes in living environment make it difficult to heal.
Types and Conditions of Acne
Whiteheads (closed comedones)
Blackheads (open comedones)
Inflammatory Acne (inflammatory skin rash)
Cysts, Scarring, etc.
Whiteheads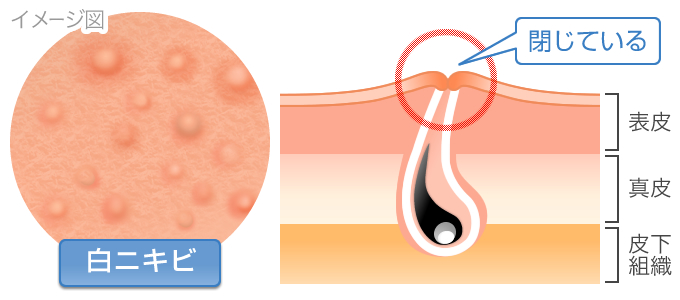 When sebum and keratin begin to accumulate in the pores, the surface of the skin becomes slightly puffy. This is a whitehead. Depending on the condition of the pore, it often goes away naturally within a few days or so. However, if the skin is left unclean, the whitehead may mature and not heal for several months.
Blackheads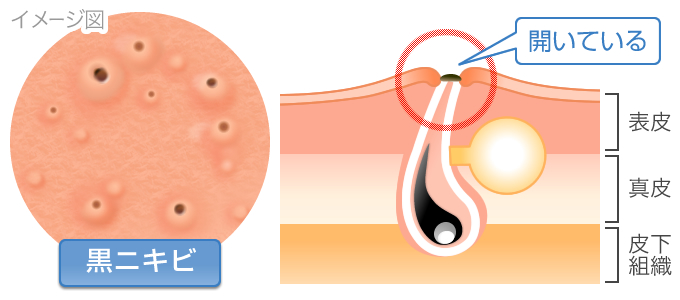 Black acne is an open pore in an area where cortex and keratin have accumulated. Dead skin cells remain unremoved and accumulate in the pores, resulting in a blackish discoloration.
Inflammatory Acne (inflammatory skin rash)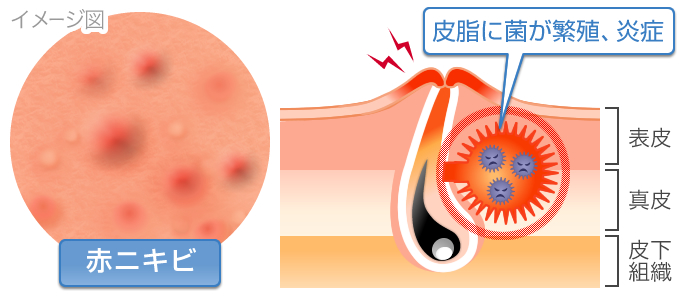 As the cortex accumulates in the hair follicle, it gradually swells and sebum leaks out into the surrounding area. The inflammation that accompanies this is inflammatory acne. It often irritates nerves and may cause mild pain when touched with a finger.
Cysts
When inflammatory acne is left untreated, it may worsen and form cysts. Sebum and other substances in the hair follicle irritate the skin and cause severe inflammation. Untreated, this condition can lead to scarring.
Scarring
Inflammatory acne often results in scarring after the acne has subsided. Once scarring occurs, it takes time and effort to restore the skin to its original condition. Early treatment is important to avoid this condition.
Treatment of Acne
Treatment of acne is generally covered by insurance. Although it varies from case to case, the first step is to wash the face regularly to remove excess fat, dirt, and bacteria. When going about daily life, people with acne should sleep well, eat a well-balanced diet, avoid stress, and prevent constipation.
In addition, they should apply medication. We prescribe topical medications that remove sebum, antibacterial drugs that reduce bacteria, and even vitamins and herbal remedies as needed. Among these medications, there are "Differn Gels", which is applied directly to the pimples and effective in unclogging pores, "Bepio Gels", which kill acne-causing bacteria, "Duac Gels", which have strong bactericidal effect, and "Epiduo Gel", which is used for refractory acne.

Oral antibiotics such as minomycin, vibramycin, and roxithromycin are also effective. In refractory cases, oral steroids may be considered.
Other Treatments
Most acne can be corrected with medication and treatment that are covered by insurance. For some patients, however, insurance coverage may not be sufficient. For example, severe forms of acne, more common in young men, and acne in adult women, affected by the hormone androgens, are considered refractory. For those with refractory cases or those who are concerned about pores and acne scars, we may recommend a .
Precautions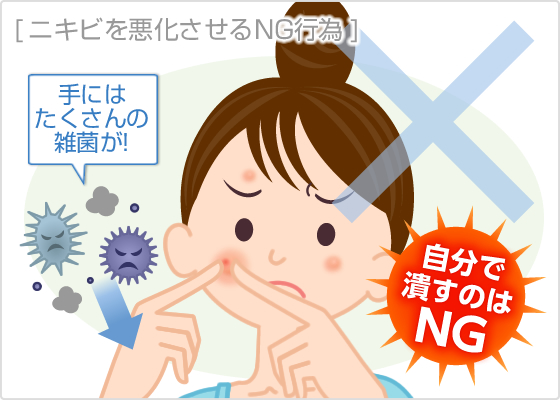 Take care not to pop pimples, as it may damage the inside of the pore and cause bacteria to irritate the pimple further. This will not only worsen the acne but also leave scars. There is also a treatment covered by insurance called "acne extraction," which pushes out the contents of the pimple. Unlike popping the pimple by yourself, a device is used to make a small hole on the surface of the pimple and push out the contents. As a result, it is said to cause less damage to the skin and leave fewer acne scars. Another major difference is that the treatment is sterilized and sanitized.